Life Purpose is a question we all ponder at different points in our lives. Sometimes we question our life purpose because we are triggered by a milestone such as graduation or mid-life, by an event such as something that happens at work like a layoff or being passed over for an opportunity, or even by another person's life that leaves us looking at our own life, our direction, and our accomplishments.
Many of us struggle with our life purpose and wonder what we are supposed to be doing differently to achieve it. We ask ourselves how other people seem to know their purpose and have a clear direction for a meaningful life and we feel unsure or stuck trying to figure out our purpose and direction.
We tend to over complicate the concept of life purpose. Life Purpose isn't as much about doing as it is about being. Who did you come into the world to be? How you choose to express that is the doing. And we should always check in with ourselves to be sure what we are "doing" is in alignment with our true self as human "beings".
Direction is an entirely different conversation. You can be the full and wonderful creative expression of your "being" and your life purpose by going in any number of directions.
When we look at life purpose through the lens of Human Design, we find that our life purpose and our spiritual purpose are governed by our Human Design Energy Type. There are 5 energy types: Manifestor, Generator, Manifesting Generator, Projector, and Reflector.
The 5 Human Design Energy Types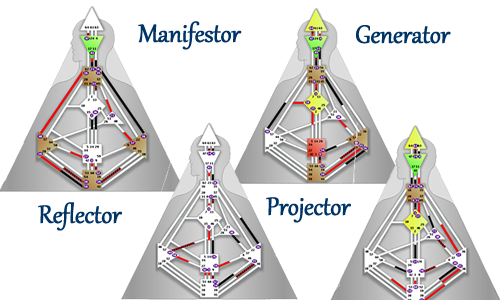 The purpose a Manifestor serves is to get things started and to initiate others into action. Spiritually they are here to translate divine inspiration into action.
The purpose of a Generator is to master work they love. They are the workers of the world. Their spiritual purpose is to build the inspirations into form. This includes the Manifesting Generators although they are here to speed things up.
The Projectors are here to guide, direct and manage. Spiritually, they are the anchor for what we are here to create. They can see the potentials and blocks we have and can help guide the Manifestors and Generators as we create and build.
The Reflectors are here to be a mirror that reflects back to us how we are doing. Spiritually, they are the evolutionary barometer.
That is really the essence of purpose. It is simple and useful but it doesn't answer the question most of us are asking. What we are really asking is not what is our life purpose but who did we came here to be. We can understand this and get the answers we are looking for by going deeper into the Human Design Chart to reveal what I call Your Divine Life Story™.
Your Divine Life Story
Your Divine Life Story™ reveals who you came here to be, the natural gifts and talents you have to support you in that effort, and the challenges you are likely to face as you become that human being. There is awareness and insight in this information and the keys to the question we pose around life purpose. As we become more aware of our true selves, we begin to see that we have been taught to be someone that conforms to societal norms and ideas around what we can or should do that have caused us to forget or hide who we really are.
This is why we struggle so much with "life purpose", because the path we are on is someone else's idea of how life should be and it is often not in alignment with who we came here to be.
Learning who you truly are, what natural gifts and talents you possess, and living in alignment with that can erase all the confusion around what we call life purpose. Understanding who you are and living in the expression of that "being", you will find that your purpose is often revealed easily.
Find Your Life Purpose
So the question we should be asking isn't "What is My Life Purpose", but, rather, "Who Am I?"
If you would like to get the answer and learn Your Divine Life Story™, so you can find your life purpose, book a reading with me by pressing the button below.
Nancy OKeefe is a Certified Human Design Specialist, intuitive coach, and compassionate transformer, who helps women peel back the layers of who they have been taught to be to reveal who they truly are so they can live their inner truth, go after their deepest desires, and create a life filled with success, satisfaction and joy. You can find Nancy at www.NancyOKeefeCoaching.com