Unlimited Talent:  What Every CEO Needs To Know To Win The Workforce War

There is a business crisis looming on the horizon.  Like a big thunderhead, it has the potential to bring damaging winds of change and torrential rain that can wash out the roads and pathways businesses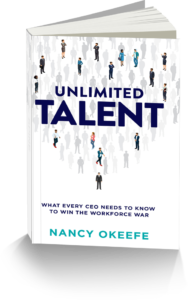 use to get things produced and sold.  It is close enough that some of us see it or feel its effects already.  Some are trying to manage it, but the force of it, the sheer size of it, is more than can be managed.  Most underestimate it or worse, don't see it coming at all.
This crisis is an employment crisis fueled by a talent war and like the Perfect Storm, 3 forces are coming together that threaten to cripple American business.
The Baby Boomers are leaving the workforce taking 40 years of achievement driven, worker stability that employers count on with them.
The Millennial's will make up the largest generation of workers, already over 50% of the workforce and they have very different ideas about work and its priority in their lives.
The concept of the full time, 9-5, steady job is eroding and the surety of depending on it to execute our business plans is going with it. There are many more ways to earn a living today all being fueled by technology, values and priorities.
The days of the employer having the hiring advantage because working for someone else on their terms was the only game in town are coming to an end.  We already see critical skills and hiring shortages in industries like technology and healthcare and it is only the beginning of the battle.
American business is broken.  Gallop studies show that American workers are only 30% engaged in the work you give them to do and that number is pretty steady across age, education and gender.  Employees are not engaged, not motivated, not interested.  People are leaving corporate America, forging new paths of work, doing with less, creating movements around tiny houses and off the grid living, changing their priorities to lead more fulfilling, more satisfying lives than the rigid 9-5 or worse 9-9 job can provide.
Fighting the battle for talent is not about providing snacks and drinks in the refrigerator or a ping pong table in the break room.  It's about realizing that people are the most important asset you have in your business and you need serious business strategies today to attract and keep them.
This book is about business leadership, having the courage to take a hard look at the way we manage people.  This book is about change and preparing for it because it is coming whether you see it or put your head in the sand and it is going to impact every business owner, every senior manager and our entire economy.  This book is about profit because people power your profit and how you think about your employees and what you do to win the talent war will directly impact your success.
This book is for business owners and senior executives who want to run the best companies, companies that attract, engage and retain the best and most talented employees, companies that are truly great places to work.
I have been examining people, processes and systems for my thirty plus year career, always asking why and challenging the way things are done in the hope of making improvements.  I've had the privilege of helping thousands of business owners find better ways to do things and I applaud all of those who really care about their customers, their employees and their communities.  We need so much more of that.
I founded and ran a company for over a decade that thought differently about hiring and working.  We employed 50 people no one else saw in the resource pool, working virtually from their homes, doing meaningful work for a highly competitive wage and full benefits.  You might be asking yourself why that is so special.  Today, there are many people that work virtually, but we started doing it in 2001 long before the technology was readily available to support it.  We ran every project that way and had happy, productive employees in four states, treated them to bonuses, outings, donated to charities and still had plenty of profit, all because we had the courage to think and act differently.
I certainly don't have all the answers and this book is not written as a prescription for what to do to solve the problems we face.  Rather, I write this book to raise awareness, to help business owners and senior managers think differently and challenge the way things are currently done.  I hope after reading this book, you will be challenging the way things are done in your organization.  Together, as business leaders, our collective questioning can help us find ways to make improvements in our businesses, our economy and our employees' lives.  It's time to challenge everything, to rethink employees and the way we manage them.  No one wins when there is a war.  Be courageous.  Be curious.  Read on.