Advance Your Career Part 7:  How To Become A Star Employee
To become a star employee that is seen, listened to and respected for the strengths, talents and value they bring to the table takes only one thing:  The Ability To Confidently Demonstrate That You Have Exactly What Someone Needs, That You Can Deliver The Results They Crave, and That You Are The Solution They Have Been Searching For.  That Transcends All Other Factors!
If you feel like your career has plateaued or worse, you must learn how to take control of your situation and infuse momentum into it by shifting your thinking about yourself and your job so you can spot career opportunities that are perfect for you, get around managers that might be road blocks, be considered for and land new opportunities and increase your earning power.
That may sound like a tall order, and going it alone it is.  That is why I created the Super Star Employee Club, a Mastermind and Group Coaching Program designed to help you Get Savvy, Secure And Successful™ in your job and career.  Learn to Lead With Your Value, Find More Opportunity To Contribute, Maximize Your Earning Power And Power Up Your Career in this program.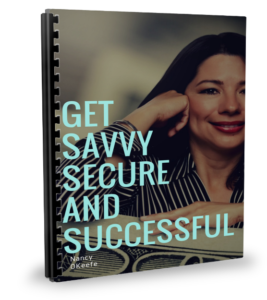 The #1 career challenge is being seen, heard, and taken seriously.
Why?  Because there are some key skills and strategies in business that you were never taught, even if you went to college.  Those missing pieces are what you will learn and master in Get Savvy, Secure and Successful™
Is This Right For Me?
Here's what we will to do together. . .
Guide you through a 7 Part Online Training Program to get you packaged up to be highly marketable and increase your earning potential.
Mastermind and coach together to help you become highly visible and establish yourself as an valuable expert in your field
Coach you to become the star employee, great companies are searching for.
You already have valuable skills and experience.  But you need a chance to put them to better use, to make a bigger contribution, to get noticed for the value you bring to your organization.  This program is designed to help you find those chances, capitalize on them & teach you to confidently demonstrate your value to others so you can become a star employee advance your career.
Here is what we cover in the Online Training Program
Module 1 – CHART YOUR PERSONAL PATH FOR SUCCESS
Stop Settling.  You can be, do and have anything you want but you have to define what that is and many of us, if asked, would struggle to answer that question.  Discover what you really want and claim it.  Learn how to change your mindset to lead with your value and achieve what you want and become a star employee.
Module 2 – YOUR PRODUCT IS YOU
Discover what you should be promoting about yourself even if you are working for someone else.  You have strengths and hidden talents you don't even know you have because they are so natural to you that you don't recognize their value.  And if you don't recognize it, chances are others won't either.  Develop your Personal Power Profile™.  Discover your hidden strengths and close the gap between where you are and where you want to be.
Module 3 – SHOW ME THE MONEY
Establish your value in the marketplace based on the results you get for your organization.  Learn how to create evidence to substantiate your value and how to communicate it to finally get the opportunities you need to be paid what you are worth.
Module 4 – LEARN TO HUNT
Learn how to spot and create opportunities to contribute and be recognized. There is no shortage of opportunity, because the flip side of every problem that needs to be solved has opportunity in it.   Learn how see it and how to position yourself to capitalize on those opportunities and set up your strategies to successfully win them.
Module 5 – TALK THE WALK
Learn how to talk about yourself and what you bring to the table in a way that positions you as the perfect solution. Learn how others see you and how you can use that information to communicate your value to your boss or potential boss.  Get the actual language you need to have the conversations around opportunity and money that you long to have.
Module 6 – BECOME VISIBLE
Learn to become more visible, gently, comfortably by being in the right place at the right time with the right solution.  Stop being the best kept secret your company has.  Get noticed when you want to be seen, heard and taken seriously. Be recognized for your ideas and talents.  A Star employee is visible.
Module 7 – CHANGE YOUR PARADIGM.
Change What Is Possible For You.  Stop Holding On To a 100 Year Old Paradigm around Work and Business That Doesn't Serve You or Your Company.   In This Module, Wrap Up What You Have Learned In An Action Plan To Power Up Your Career.
Here is how we will do it. . . .
You will go through the 7 modules at your own pace from the comfort of your own computer.
We will get on 2 – 90 minute, group, Zoom video calls per month to review the content, provide Q&A, and coaching.
We will have powerful guest speakers and trainings on important topics and trends on our some group calls.
You will have unlimited access to a private members only Facebook group where you can communicate your questions, concerns, celebrations and get real time feedback 24 x7.
This is your chance to advance your career.
To learn more, contact us.  Just fill out the contact form on our website by using this link.  Contact US
The call is confidential and complimentary.   We will be in touch to answer all of your questions and help you decide if this is what you need to advance your career.
I look forward to speaking with you.
The Very Best,
Nancy

Nancy O'Keefe, MBA, is a Strategic Adviser, Executive Coach, Speaker, Trainer, and Author of the Book Fighting The Talent Battle: How To Update Your Arsenal and Win the War.  She works with business owners and senior executives to create profitable and productive workplaces that attract, motivate and retain great people. She is a thought leader in strategy, management and cultivating talent.  She can be found at http://www.NancyOKeefeCoaching.com