An expert on creating high performing people and work places, Nancy OKeefe is passionate about empowering leaders to create a MOTIVATED AND PRODUCTIVE workforce that powers brilliantly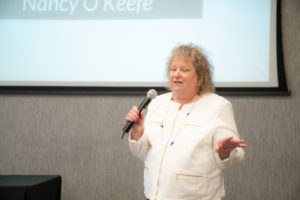 successful and profitable organizations.
Her Speaking Topics Include:
Unlimited Talent:  What Every CEO Needs To Know To Win the Workforce War
The traditional labor pool is shrinking.  Rapidly changing technology requires new skills.  Growing companies need a new tact for creating a steady stream of talent.  Using the same strategies for recruiting and hiring that have been used for decades looks at the traditional labor pool and that is no longer satisfying rapidly changing needs. Nancy shares insights into how companies can find talent in a new way and improve the odds that employees will stay in their organizations longer.
Revolving Door:  5 Surprising Reasons Your Organization Can't Attract and Retain Talent
Closing the revolving door starts with knowing how to attract the right people. Businesses need talented individuals who actually want to be doing what they're doing. Everything from the job description and the career path to the employees experience in your organization day to day impacts your hiring success.  Nancy wants audiences to look at how we view employees and how we manage them in a new way.
Profitable People:  Motivating Managers To Motivate Their Staff
The recruiting process is only half the battle. If good workers are leaving your organization, then you might want to stop blaming them or the job market and start considering what your company might be doing to drive them away. Studies show it could be your management team.  Nancy shares why this occurs, how to discover if this is happening in your organization and how you can stop it.
Testimonials
"Thank you for speaking at the Women Mean Business Luncheon. We are grateful for the time and effort you took to share your thoughts and experiences with our members. The points that you discussed had an impressive, positive impact on the audience and I have been hearing such wonderful feedback. Your speech made a real difference in our effort to educate, motivate and empower leadership and changes in the workplace"  Meaghan Doherty. Director of Membership Relations & Events
Contact our office if you are interested in booking Nancy at your meeting or event.  Click to contact us.