Does Your Small Business Feel Like A Glorified Job With A Boss You Can't Fire?
Are You Spending Your Days Doing Things That Don't Inspire You?  That Isn't What You Signed Up For When You Started Your Business.  Is It?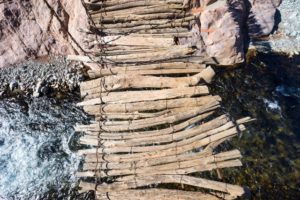 Most business owners go into business to focus on creating or building something.  They are inspired by big ideas, possibility and potential.  They thrive on the chaos of creativity.  But while chaos works in the creative process, it doesn't work in running a business.  Business requires planning, linear thinking, consistency, order. No matter what business you are in, there are certain unavoidable tasks that are necessary to keep a business going and most business owners find these tasks boring and mundane.
Most entrepreneurs avoid those boring and mundane tasks because they pull them away from the creative work they love, the work that made them successful in the first place.  And doing more of what got you to this point is sure to get you further, right?  Wrong.  The reality is that you can't ignore these necessary parts of your business:  Process, Management, Accounting, Systems and Structure.  It's what keeps the lights on.  It's what allows you to leverage your creativity so you can reach the next milestone.  It is what gives you the solid foundation you need to have the freedom to focus on what you love.
Although the boring and mundane tasks have to get done, the good news is that you don't have to be the one to do them.  You can structure your business to get these things handled without your direct involvement.   But you do have to recognize when it is time to create this structure.  You have to be willing to let go of the idea that structure will kill creativity.  You have to be willing to solicit the help you need to build the structure so your business lasts.  You have to be willing to let go of some of the control.

There are 3 stages in a  business.  The object is to get to stage 3 where you will achieve the freedom, reap the rewards of success and enjoy longevity. This is where your business becomes easy to operate, innovative, profitable and fun. Getting from Stage 1 to Stage 2 is easy but it is during Stage 2 that the dangers of running a  business surface. Those businesses that fail to build a sturdy bridge over the dangers in Stage 2 often don't make it to Stage 3.  They last for a while and then it becomes too hard, too frustrating to keep clients happy, to do your best work, to get up and keep everything going AND still have the time and the mental capacity to create the original ideas people pay you for.  So many give up their dream because they think they don't have what it takes and the only relief valve they see is to go to work for someone else. Let's take a look at each of the stages and how to spot the dangers of Stage 2.
| | | |
| --- | --- | --- |
| Stage 1 – The Talent Is The Business | Stage 2 – The Talent Drives The Business But The Business Becomes a Job | Stage 3 – The Business Is A Business |
| You charge by the hour.  You're trading dollars for hours.  You love your clients.  You do some of your best work. | Money starts coming in but what you charge and who you serve is all over the place.  Getting the business starts to be more important than doing the work.  It's about survival. | You can increased your rates.  You charge based on the value you provide to clients not the time you spend.  You gain clarity about whom you want to work with and why. |
| The Owner is necessary in all decisions.  Everything you do is creative.  It is an exciting time to own a business. | Sheer volume requires that others get involved resulting in inconsistencies in the work.  These inconsistencies can cost you clients. | The business can run without you.  Clarity on what you do and how the work gets done.  Definition around Roles and Responsibilities. |
| The Business runs on the Owners emotion and drive and the supply seems limitless.  You are on the top of the world. You are realizing your dreams. | You start to get tired. Things start to get missed.  Clients get upset, even leave.  Running the business becomes hard, time becomes scarce. Being the owner is less fun. | You embrace the emotion and excitement of Stage 1 encapsulated in systems and procedures, structure to propel you further without fatigue. |
| You Have More Time Than Clients.  The ideas flow fast and furiously.  You do some of your best work, ever. | You spend more time running the business and less time with clients.  Running the business creeps into your nights and weekends. | You regain time. You scale the business as needed to handle more clients.  You have the freedom to spend your time on the tasks you enjoy most. |
| You have plenty of time To Focus On The Details | More work equals less time. The details starts to slip. | Standards for Quality of Work and Consistency |
| Small Number of Clients | More clients means more money, but it also means more fulfillment.  Creativity starts to feel commoditized. | Large Number of Clients Can Be Handled |
| Low Overhead.  It may be just you. | Need a support team to keep up.  Overhead grows.  Profit shrinks. | Managed overhead with profit growth. |
| You do everything yourself. | Every new employee changes the way things get done. Variation and inconsistencies cost more money.  Profit shrinks more. | Tasks and how to's are written, consistent.  Things are done the way you want them to be done. The business is profitable. It has a saleable value. |
You can easily make the leap from Stage 1 to Stage 2; but Stage 2 can quickly turn into a job you hate with a boss you can't fire.  This is where most small businesses fail, almost 80% actually.  They get stuck here without a way out, without a sturdy bridge to Stage 3 and the leap between Stage 2 and Stage 3 is huge.  They start to feel overwhelmed, spend less time doing what they started the business for and begin to feel frustrated, even hate what their "job" has become.  It is the road to burnout, self-doubt, questioning what you do and what your business has become.
The time to start preparing for Stage 3 is as soon as you start to enjoy some success in Stage 1.  Once you have a few clients and feel like you enjoy what you are doing and the business you are creating, it is time to think about how you could do more of it, have more success and keep the feelings of accomplishment and satisfaction you enjoy now high.
Whether you are just beginning, are in Stage 1 or starting to feel the pressures of Stage 2, you can preserve your creativity and your ability to do what you love.  You can prevent yourself from getting bogged down in the quicksand of Stage 2.  You can build a sturdy bridge to Stage 3 and you can start right now by downloading our free Creative Business Checklist – "Build Your Bridge:  How to Make Your Business Easy to Run, More Lucrative to Own and Fun in only 10 Steps.  It is yours with our compliments.
Save
Save
Click Here And Begin To Build Your Sturdy Bridge
Save
Save
Save
Save
Save
Save
Save