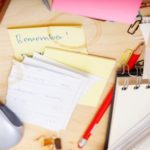 You are busy.  Your business has grown and as it grows you will find it becomes harder and harder to keep track of everything in your head, on paper or even in spreadsheets.  The information can get lost.  It usually isn't centralized or if you do have it all in one spreadsheet, after a while there is just too much information and it gets difficult to use.  Opportunities can be missed.  Tasks don't get done or are late.  Things can start falling through the cracks.  The result is stress, confusion, overwhelm, unhappy clients and even lost business.
You need a solid follow up process, preferably one that can remind you to do things automatically.  And the key here is having just one.  Many business owners have a calendar, a to do list and notes on their desk or post its on their computer screen.  Some things are documented in one place and other things in another.  More confusion.  More chance for error.
Here are The Top 10 Reasons You Should Have One Solid Follow Up Process in Your Business.
So that you faithfully follow up and take action, no ifs, ands or buts. Nothing happens until action is taken.
So that you have exactly one place to look for all of your tasks, appointments, to dos, etc. to prevent you from double booking or worse, forgetting.
So you can consistently follow up with prospects to make more sales and more money. Statistics show that 80% of sales are made in the 5th to the 12th follow up.  Most people never follow up more than once.
So you have consistency. End feast or famine revenue cycles and even out cash flow.  This lets you plan.  Planning is necessary to grow your business and have the success you want.
So you stop missing opportunities or leaving money on the table because you forgot to do something, offer something additional, invoice something, and collect money for something.
So your To Do's all get done and nothing falls through the cracks and great ideas get captured and acted upon.
So that you stop chasing your tail and can make the best use of your most limited resource, your time. Have you ever had to waste valuable time looking for something you know you had but forgot where you put it?
So you can get things out of your head and in a format that lets you delegate some tasks to a staff member or a Virtual Assistant so you don't have to do everything yourself.
So that you can deliver on your promises to your clients and prospects 100% of the time, exceed their expectations and get great reviews and testimonials from them that will get you more clients.
So you don't get in overwhelm mode that paralyzes you and inhibits positive action taking. The world is moving so fast that it is hard to keep track of everything and keep up manually.
It is not always easy to come up with a process that will serve you.   It is even harder to get it documented.  And the most difficult thing is sticking to it.  If you have staff, trying to get the staff or assistants to use it and stick to it without changing it to suit their needs can be difficult too.
That is why your follow up process should be designed especially for you and automated with a tool that makes it accessible whenever you need it, where ever you need it.  It should be easy to use because generally human beings will not use things that are difficult.  They will take the path of least resistance, reinvent the process and you'll be right back at square one.  How many times in the past have you tried a new way to do things and abandoned it without even realizing it because it didn't become a regular part of your routine?  It has to work.  It has to be easy to use.  You have to be committed to using it for 90 days, without exception, to make it stick.
If you need help with this, start by downloading our checklist, "The Key Elements Of A Good Follow Up System" by clicking the button below.
Get Your Free Copy of The Key Elements of a Good Follow Up System