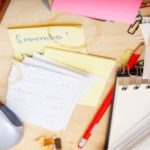 Systems Can Set You Free From Everyday Tasks, Reduce Stress and Make Your Business Life Easier

Most of us run our lives on a handful of systems. Between our cellphones, our planners and our e-mail inboxes, we have organized ourselves and our time. And if you ever doubt the importance of these systems, recall your panic the last time you lost your planner or your smartphone stopped working.
Yet as important as these systems are, most of us don't take advantage of what systems can do to improve our businesses. So what is a system?  It is simply a series of steps than occurs repetitively to create a repeatable and predictable result.  Systems are ways of automating or structuring processes so that they can occur repetitively without so much thought or attention—and by more than just one person, so that the business can continue to run if the owner steps away.  Systems create consistency.  They can save time and money.  Systems can set you free from everyday tasks , free to work on your business, free to take time to plan or just to take some time for yourself.  When is the last time you had a worry free vacation?
It is difficult to decide what systems to create in your business.  The choices of software alone are overwhelming.  How do you know which ones are best for your business?  Looking at software first is the most common mistake business owners make.  The usual way to acquire software is to hear about some app or program from a friend or business acquaintance who is raving about it, purchase it and promptly fail to get it implemented or get the desired result with it.
The better approach is to recognize that software is just a tool.  Like a hammer or a wrench, when you use a tool,  you look at the job you need to do and select the appropriate tool to get the job done.  This is the best way to select software and automate your business as well.  It is all about solving problems.
For most of us, there are dozens of similar repetitive tasks, large and small, in our businesses or jobs that could be systematized. To identify where you can apply systems, step back from your enterprise and try to look at it objectively. Ask yourself questions such as the questions below:
Where are your frustrations?  You are more likely to be frustrated if you are redoing tasks that bring no particular satisfaction or are necessary evils and don't add to the bottom line. Second, you are going to be frustrated if you have tasks that are difficult to accomplish and time consuming because the process is laborious or the needed information is difficult to pull together.
What is holding back your business? What are the choke points? Do you need to generate more prospects? Do you have prospects but a low rate of conversion? Do you convert customers but lose them through poor follow-through? Strategically focusing on your business this way is more likely to help you spot high-value opportunities for systematization.
What causes you stress? Is it preparing for the quarterly performance reviews? Finalizing your printed catalog? Preparing for your annual make-or-break tradeshow? Even if you know the steps by heart, systematizing at least part of these stress-inducing activities could yield big benefits to your business—and your well-being.  Even just documenting a list of the steps can reduce your stress because it makes it easier for others to pitch in and help.
Remember, a system is simply a set of steps that can be performed consistently for a repeatable result.  Where do you need a guarantee that you will be able to repeat a result in your business time after time?  That is probably a good candidate for systematization.
Don't confuse systems with automation.  Not all systems are automated.  Deciding whether to apply automation to your solutions is a separate step and one we will address in another article.
Save
Save